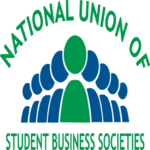 Welcome to the website of the National Union of Student Business Societies. Having been founded by our original 24 Russell Group Universities in the UK in 2012, as of 2016 we have grown to become part of the wider Collegium Global Network: http://collegium.network/. Collegium is a network for the most talented, ambitious and impressive young people from around the planet who are the leaders of the future in their respective fields, communities and the world as a whole. Our name derives from the Latin for 'joined together' and we are a multi-disciplinary community for those looking to make their mark, change the world and create their own dent in the universe.In addition to being a network for individuals, we are also a network of the most effective campus organisations and societies.
The NUSBS is a national network founded by student business societies, for student business societies in the UK. The network aims to support and represent student run business societies to help promote careers in the business world to students. We are made up from all 24 Russell Group Universities (an association of 24 British public research universities whose members receive approximately two-thirds of all university research grant and contract income in the United Kingdom.) Each of these founding member societies is the official representative from their university to the Union: a stamp of approval and responsibility. Only the most effective society of this type at each university (the one that offers the best service to its students) will be a representative at any one time. The network as a whole will decide if a member society is not meeting the entry criteria and may take on board another society from the university in question. Societies are welcome to apply to join by filling out the form on the website. The long term vision is that in five years there will be a thriving network of student led business societies or groups in EVERY University and College in the country, providing the essential information, advice and inspiration needed for young students who might consider going into business.
Society support includes training, advice and shared best practice sessions, annual society one day bootcamps, a national mentorship scheme, link ups with secondary schools as part of the access scheme. We will organise an annual trip to financial centres such as New York, an annual conference, competitions and work together on a termly collaborative magazine. Please see the 'About us' section of the website for more details about the National Union of Student Business Societies and how we are run.
Below is a map of our network.